54_238841_000-0000
Images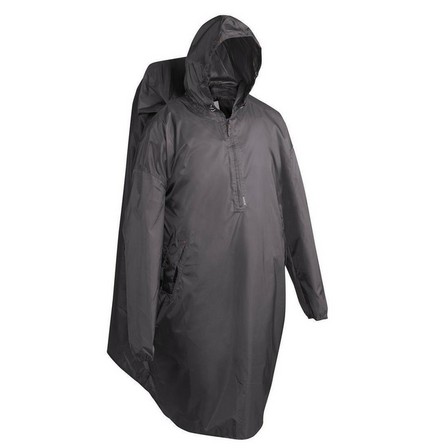 Extra Small Hiking Rain Poncho - ARPENAZ 40 L - Size L/XL, Black
‎129.00 AED
https://www.azadea.com/en/buy-forclaz-extra-small--hiking-rain-poncho---arpenaz-40-l---size-l%2Fxl%2C-black/54_238841_000.html
AED
129.00
2022-12-06
http://schema.org/NewCondition
In Stock
Details
https://www.azadea.com/en/buy-forclaz-extra-small--hiking-rain-poncho---arpenaz-40-l---size-l%2Fxl%2C-black/54_238841_000-0000.html
^Created and tested in the French Alps, this long-sleeved poncho provides shelter from the rain when hiking.^Waterproof
Coating 2,000 mm rating (Schmerbers)Fully taped seams.Long sleeves
Breathability
Hydrophilic coating (RET=11) reduces condensation in the clothing.

Lightweight
From 250g (XS) to 340g (L/XL) means you can forget about it in bottom of bag.

Pockets
2 openings for easy access to the jacket or trouser pockets.

Ventilation
Deep zipped air vent to allow fresh air inside during physical exercise.

Compatibility
Internal volume can shelter a backpack of between 0 and 40 Litres.

Robustness
Polyester fabric with good resistance to tearing.

Compact design
Separate storage bag provided.Dimensions L18 x H20 x D3

^This waterproof rain cape is the essential accessory for your hikes. Quick to put on and provides full protection from the rain, with or without a backpack (maximum capacity of 40 litres).^feature1id285,titleWaterproof,textCoating 2,000 mm rating (Schmerbers)Fully taped seams.Long sleeves,iconhttps//contents.mediadecathlon.com/b65039/pic.jpg,feature2id304,titleBreathability,textHydrophilic coating (RET=11) reduces condensation in the clothing.,iconhttps//contents.mediadecathlon.com/b65062/pic.jpg,feature3id64,titleLightweight,textFrom 250g (XS) to 340g (L/XL) means you can forget about it in bottom of bag.,iconhttps//contents.mediadecathlon.com/b65360/pic.jpg,feature4id292,titlePockets,text2 openings for easy access to the jacket or trouser pockets.,iconhttps//contents.mediadecathlon.com/b65310/pic.jpg,feature5id316,titleVentilation,textDeep zipped air vent to allow fresh air inside during physical exercise.,iconhttps//contents.mediadecathlon.com/b65146/pic.jpg,feature6id21,titleCompatibility,textInternal volume can shelter a backpack of between 0 and 40 Litres.,iconhttps//contents.mediadecathlon.com/b65161/pic.jpg,feature7id148,titleRobustness,textPolyester fabric with good resistance to tearing.,iconhttps//contents.mediadecathlon.com/b65229/pic.jpg,feature8id20,titleCompact design,textSeparate storage bag provided.Dimensions L18 x H20 x D3,iconhttps//contents.mediadecathlon.com/b65253/pic.jpg^Created and tested in the French Alps, this long-sleeved poncho provides shelter from the rain when hiking.^nameFit and sizing information,descriptionGood coverage for hikersbetween 156 and 166 cm in height in size XSbetween 167 and 176 cm in size S/Mbetween 177 and 190 cm in size L/XLand wearing a backpack with a capacity of 0 to 40 litres.The hood can be tightened using an elasticated cord and a stopper.The ends of the sleeves are cuffed with an elastic binding that prevents water from entering your sleeves.This rain cape is easy to get on and off thanks to its long front zip, by easily letting the head through.,nameAdditional recommended products,descriptionTo complement your outfit, a pair of waterproof over trousers or gaiters is recommended to protect your lower legs perfectly.For greater breathability, the waterproof hat can also be attached to the poncho!,nameComponent waterproofing,descriptionThe resistance of a fabric is measured by the height of a water column in mm that can be supported by the fabric (test based on the ISO 811 standard).The higher the pressure, the more waterproof the fabric.Components with a 2,000 mm rating can withstand the pressure of a 2,000 mm column of water (which is equivalent to a rain shower lasting 2 hours).,s4nameWaterproofing of the garment,descriptionThis garment has been validated in a shower test under 60 litres of water / m?� / hour for 2 hours. This test reproduces the average conditions of a rain shower in the mountains.,s5nameComponent breathability,descriptionTo find out whether a fabric is breathable, we test its evaporative resistance or RET (based on the ISO 11092 standard).The lower the fabric's resistance, the more water vapour generated by physical activity can escape and the higher the fabric's breathability.For exampleRET < 9 = extremely breathable fabric9 < RET < 12 = very breathable fabric12 < RET < 20 = breathable fabricRET > 20 = little or no breathability.RET of this cape = 11.,s6nameWater-repellent property of the component,descriptionThe water-repellent property of a fabric is its capacity to make water run off its surface without absorbing it.As a result, the fabric does not soak up water and stays light, breathable and warm.A fabric is made water-repellent by applying a treatment to its outer surface.This treatment needs to be renewed throughout the lifetime of the garment (every 3 washes).All Quechua ponchos and capes have a water-repellent treatment.,s7nameA score for comparing the products' environmental impact,descriptionThe environmental impact of the product is calculated over its entire life cycle and using various indicators. An overall ABCDE score is given to help you easily identify products with the best environmental performance by comparing products of the same type (t-shirts, trousers, backpacks, etc.). Decathlon is committed to displaying environmental information about its products. For more information http//sustainability.decathlon.com/,s8nameCare,descriptionWe recommend you use a re-waterproofing product (spray or liquid)To renew the fabric's water repellent-properties and optimise the garment's performance throughout its lifetime.,compositionnameComposition,descriptionMain fabric,Polyester: 100%
Coating,Polyurethane: 100%
Lining,Polyester: 100%
---