54_2745740_000-0000
Images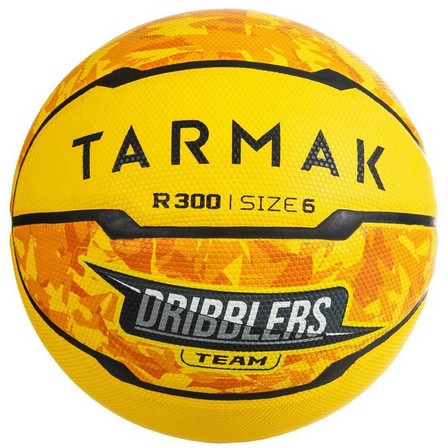 20% off 200 AED on App
US 6 R300 Girls'/Boys'/Women's Beginner Size 6 Basketball - Yellow, Yellow
‎55.00 AED
https://www.azadea.com/en/buy-tarmak-us-6--r300-girls-%2Fboys-%2Fwomen-s-beginner-size-6-basketball---yellow%2C-yellow/54_2745740_000.html
AED
55.00
2022-09-23
http://schema.org/NewCondition
In Stock
(Incl. VAT)
Details
https://www.azadea.com/en/buy-tarmak-us-6--r300-girls-%2Fboys-%2Fwomen-s-beginner-size-6-basketball---yellow%2C-yellow/54_2745740_000-0000.html
Official size 6 basketball suitable for playing basketball indoors or outdoors (Girls/women over 11 years old and boys aged 11 to 12).
This basketball is the official size for girls age 11 and up, and boys ages 11 to 12. Made with foam rubber, it provides good ball feel as well as good durability.
ball touch
A pleasant feel thanks to the padded rubber cover.

Durability
Pleasing durability thanks to the 1.4mm rubber cover.

Lasting air retention
Prolonged period between Chambers thanks to the bladder with 30% butyl bladder.

Traction
Good grip thanks to the deep channels.

Bounce
Good bounce as the bladder is enveloped in 100% polyester

nameWhy learn with the Tarmak R300 ball?,descriptionThe Tarmak R300 basketball is perfect for beginners.Ball handling is enhanced thanks to the deep grooves and pebbled cover.Foam rubber (air is injected into rubber, which creates a softer consistency) for softer impacts.Its filament winding is made from 100% Polyester, ensuring good quality bounce.Very durable for indoor and outdoor use.,nameWhat ball size to choose? ,descriptionThe ball size depends on the player's age and gender.Size 1 From ages 2 and upSize 3 to size 5 Girls or boys ages 4 to 6 / Baby basket under 7 age group (depending on levels and clubs)Size 5 Boys and girls ages 7 to 10 / Under 9 and under 11 age groupsSize 6 Boys ages 11 and 12 / Under 13 age groupSize 6 Girls - Women of all ages over 11Size 7 Boys ages 13 and up, and men.,nameWhat ball should you use?,descriptionIf you want a very durable ball, go for a rubber ball. If you're looking for a ball with a good ball feel, choose a leather or synthetic ball.,s4nameFor a good bounce, how much should you inflate your basketball?,descriptionA basketball that is overinflated or underinflated will deliver a sub-par playing experience.The recommended pressure is clearly marked on the ball by the manufacturer.Ideally, you should use a pump with a pressure gauge for a more precise inflation.At Tarmak, we recommend a pressure of 0.62 bar.Enjoy your game!,s5nameDid you know that all TARMAK products are tested in the lab and in match conditions?,descriptionThe design team behind the TARMAK products is based at Kipstadium in Northern France. It is constantly aiming to make basketball a more enjoyable experience. All Tarmak products have been tested in real-life situations by actual players for a number of weeks.These regular tests, along with customer feedback, help us develop our products.Lab tests are also carried out to check our products' various properties,s6nameWho designs the Tarmak basketball products?,descriptionTarmak is a team of keen basketballers who develop products eially for playing basketball. The entire product range is designed to meet the needs of even the most demanding basketball players and to give you maximum enjoyment during training and matches.,s7nameGet all our tips on choosing the right gear and training!,descriptionTarmak is here for anyone playing basketball, from beginners to regulars. Check out our tips for training, kitting yourself out, and playing alone or with friends.https//conseilsport.decathlon.fr/conseils/basketball-al_332,compositionnameComposition,descriptionBladder,Rubber - Natural Rubber - Latex: 100%
Main fabric,Rubber - Natural Rubber - Latex: 100%
Winding,Rubber - Natural Rubber - Latex: 100%
---