85_209291_000
Images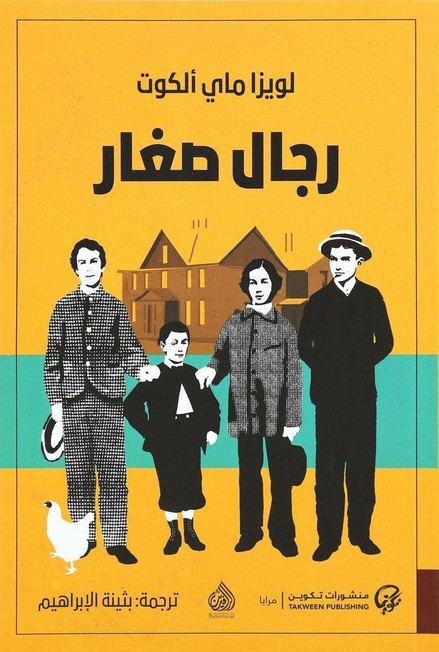 رجال صغار | لويزا ماي ألكوت
N/A
https://www.azadea.com/lb/en/buy-dar-al-rafidain-%D8%B1%D8%AC%D8%A7%D9%84-%D8%B5%D8%BA%D8%A7%D8%B1-%D9%84%D9%88%D9%8A%D8%B2%D8%A7-%D9%85%D8%A7%D9%8A-%D8%A3%D9%84%D9%83%D9%88%D8%AA/85_209291_000.html
LBP
N/A
2024-01-29
http://schema.org/NewCondition
Out of Stock
Details
https://www.azadea.com/lb/en/buy-dar-al-rafidain-%D8%B1%D8%AC%D8%A7%D9%84-%D8%B5%D8%BA%D8%A7%D8%B1-%D9%84%D9%88%D9%8A%D8%B2%D8%A7-%D9%85%D8%A7%D9%8A-%D8%A3%D9%84%D9%83%D9%88%D8%AA/85_209291_000.html
Free Delivery
Over 1200000 LBP

Free Returns
Within 30 Days
Product ID

‎85_209291_000

Little Men was published in 1871, with a sequel to Louisa May Alcott's masterpiece "Little Women", followed by a third and final part, "Joe's Boys."
In this part, Jo March, who became Mrs. Byer after her marriage, is shown running School for boys. The writer was inspired by the story from her father, who is passionate about reforming education, and from the school he founded. This novel, like its predecessor, achieved great success and was adapted from many films and a Japanese anime series produced by Nippon Animation Studio within the Masterpieces of the World Theater series. Joe establishes a school for boys not only, but she also makes sure that the place is a real home, especially for orphans. With the help of her husband, Professor Bayer, It healed their broken hearts, as their sick bodies vowed to provide food and medicine. She believed that love "is a flower that grows in any soil, and the fruits of its sweet miracles are not destroyed by the autumn frost or winter snow, but rather bloom beautiful and delicious throughout the year, and blessed are those who give it and those who receive it."
When the world became a small village, the distances between a person and his brother increased. The earth became fertile, and the flower of love withered. This novel is like an invitation "from Joe and her little men" to the reader to fill his heart with kindness and appreciation of the beautiful things in nature and humans, to realize the essence that the eye does not see.
Highlights & Specifications
Highlights & Specifications
رجال صغار | لويزا ماي ألكوت