54_4116102_000-0000
Images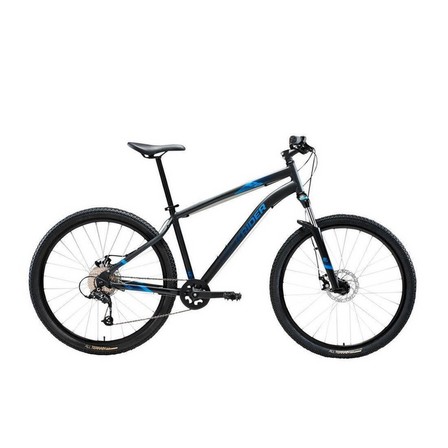 XL - 185-200cm 27.5 Mountain Bike, Black
‎1,709.00 QAR
https://www.azadea.com/qa/en/buy-rockrider-xl---185-200cm--27.5-mountain-bike-black/54_4116102_000.html
QAR
1,709.00
2023-08-12
http://schema.org/NewCondition
In Stock
Details
https://www.azadea.com/qa/en/buy-rockrider-xl---185-200cm--27.5-mountain-bike-black/54_4116102_000-0000.html
Free Delivery
Over 199 QAR

Free Returns
Within 30 Days

CHECK IN STORE AVAILABILITY
CHECK IN STORE AVAILABILITY
Choose one or more sizes to check their availability in stores :
Result ()
Sort By:
Location Permission in the browser is not currently available. To utilize the 'Sort by Location' option, please enable permissions.
Result ()
Sort By:
Location Permission in the browser is not currently available. To utilize the 'Sort by Location' option, please enable permissions.
/

This 27.5 mountain bike has been designed and developed to best suit getting started with mountain-bike touring in dry weather, for rides of up to 90 minutes.
Change speeds easily on this efficient and easy-to-handle ST 120 mountain bike. You will feel the precision and lightweight provided by the single chainring (1x9 speeds) and mechanical disc brakes.
Cycling comfort
Enjoy touring: raised position, 80 mm suspension, hammock saddle, FLEX seat post

Ease of use
Adjust your speed without thinking: 9-speed single-chainring drivetrain.

Directional control
Control your trajectory: cable disc brakes, tyres with side knobs

Efficiency
Pedal efficiently: light aluminium frame, 9 speeds and fast tyres.

Robustness
An ultra-strong MTB: welded saddle, double-wall rims.

Lifetime warranty
ROCKRIDER offers a lifetime warranty on the frame, handlebar and stem.

Which is the right size?
Several sizes availableS between 1.50m and 1.64mM between 1.65 m and 1.74 mL between 1.75 m and 1.84 mXL between 1.85m and 2%mTo adapt the MTB to your height and size, try these tips1/ Sitting on the saddle, you should be able to touch the ground with the tips of your toes.2/ To adjust the saddle height, your knee should be slightly flexed with the foot on the pedal in the lowest position.3/ If you're between two sizes, choose the larger size.,
UNISEX FRAME
With a heavily sloped top tube and a wide range of sizes (from S 1.50 m to XL 2 m).The ST 120 mountain bike frame is UNISEX.The ST 120 mountain bike is available with the same frame in a WOMEN'S version fitted seat, narrower handlebar, shorter stem, fork with a more flexible spring, and brake levers that are closer together.As a WOMAN, if you choose the MEN'S model, we recommend at least purchasing the WOMEN'S SPORT 500 saddle which is fitted to the female form.,
A WORD FROM THE TEAM
Our team of mountain bike enthusiasts created this ST 120 mountain bike at our B'Twin Village in Lille, France.Recreational mountain bikers told us they wanted comfort, effectiveness and durability. Based on that, we designed and tested the ST 120 mountain bike, involving MTB riders at every stage.,
A LIGHTWEIGHT, COMFORTABLE, FUN FRAME
Our designers created a frame that's easy to get onto.The 100% aluminium CGF frame (Comfort Geometry Frame) is both comfortable and easy to handle. The slope angle has been designed to keep your back straight, while the rear bases were shortened to make the bike very agile in turns.,
Front suspension
The 80 mm front suspension helps you get started with overcoming obstacles on slightly uneven trails easily.Easily adjust the hardness using U-Fit technology (weight adjuster). Simply set the number to your weight (55 kg to 105 kg) using the dial on the fork.,
REAR SUSPENSION None
This mountain bike has no rear suspension.It is a semi-stiff mountain bike perfect for beginners launching themselves into their first mountain bike touring rides. Compared to a full suspension mountain bike (with rear suspension), the advantages are clear this mountain bike is lighter; you spend less energy on flat ground.,
DERAILLEUR & DRIVETRAIN A SINGLE CHAINRING LIKE THE PROS!
The single chainring is easy and efficient to use1 chainring and 9 speeds.Accelerate on the flats and easily tackle the climbs.With a single lever on the handlebar, you can change gears while hardly thinking!-ROCKRIDER FC ATB 100 - 32-tooth single chainring equipped with 2 chain guides (anti-derailment)-MICROSHIFT RD-M46-L rear derailleur-MICROSHIFT SL-759 right shifter-MICROSHIFT H092 9-cog cassette (11-36 teeth)-Wide, sturdy KMC Z9 chain,
HANDLEBARS, STEM, GRIPS
With a stem that tilts 10آ° upwards, the riding position of the ST 120 is raised, accessible, and comfortable. In detail- 90mm aluminium stem with an angle of 10آ° for maximum comfort- 640mm wide steel handlebar for stability and control- Soft touch lamellar grips for a firm yet soft and pleasant grasp.,
Saddle
The saddle of the ST 120 is welded to prevent any movement of the saddle.And because your comfort is our priority after your safety, we've added an exclusive wider Ergofit saddle with a hammock shape.Easily adjust the height of your saddle with the Flex steel seat post (350mm or 400mm long depending on the bike size). Its smaller 27.2mm diameter provides your seat with natural flexibility, 30% more than a standard solution.,0
MECHANICAL DISC BRAKES
The Tektro TKD 68 160 mm double disc brakes provide powerful, progressive braking at the front and rear. The aluminium Tektro brake levers are precise, and easy to hold.The brakes can be applied using only two fingers.3 or 4 sets of 10 dry, intermittent stops are enough to break in your pads.We recommend that you have your brakes checked at least once a year.,1
27.5 WHEELS & TYRES FOR DRY TERRAIN
The 27.5 wheels of the ST 120 are tolerant and sturdy, with 19 mm double-walled rims with 28 spokes.Start overcoming obstacles fearlessly, including small rocks, cracks, holes and bumps!Because your first rides will be on dry ground, the Dry 27.5 x 2.0 tyres are most suitable. Their performance is optimised thanks to the rounded central section, whilst the side lugs provide good grip on turns.,2
Platform pedals
The Rockrider ST 120 mountain bike comes with resin mountain bike platform pedals for lower weight and increased safety.If your foot slides on the pedal, there's less risk of injury.,3
TRANSPORT & STORAGE
We added a quick release system for easily removing/reattaching the front wheel.Our advice a bike rack is an easy way to transport your mountain bike without dirtying your car.,4
Accessories
The ST 120 mountain bike comes with a bell, lights, wheel reflectors, and pedals.The frame is compatible with-300 central stand (ref. 8172767) and 500 central stand (ref. 8172769)-100 bottle cage (ref. 8049106) and 500 bottle cage (ref. 8358133)-Mountain bike mudguard set (ref. 8385291)-100 saddle bag (ref. 8347394) and 500 saddle bag (ref. 8354448)-500 pannier rack (ref. 8364376)-100 frame child seat (ref. 8486913 and 8487125), from size M,5
COMFORT & SAFETY
Your bike's fittings (chain, derailleur, brakes, etc.) will adjust over time. Take advantage of a free servicing within 6 months after purchase. Our technicians will carry out a 13-point inspection of your bike. Just come to your nearest Decathlon workshop with your Decathlon card and/or receipt.,
Composition
Frame,Aluminium: 100%
---