54_2455364_000-0000
Images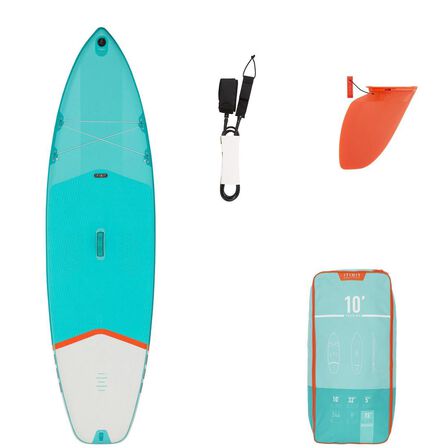 10 Feet Beginner Touring Inflatable Stand-Up Paddle Board - Turquoise Green
‎1,650.00 AED
https://www.azadea.com/en/buy-itiwit-10-feet-beginner-touring-inflatable-stand-up-paddle-board---turquoise-green/54_2455364_000.html
AED
1,650.00
2022-06-15
http://schema.org/NewCondition
In Stock
(Incl. VAT)
Details
https://www.azadea.com/en/buy-itiwit-10-feet-beginner-touring-inflatable-stand-up-paddle-board---turquoise-green/54_2455364_000-0000.html
Our team of fellow paddlers developed this touring stand-up paddle board for half-day trips for beginners weighing 60 to 80 kg.
Easy-to-handle, ultra-stable, generously sized inflatable Stand-Up Paddle (SUP) board for users weighing 60 to 80 kg, for cruising or surfing small waves.
Stability
Very wide (32) and thick (5) for stiffness and maximum stability.

Compact design
Dimensions folded in the bag (90 x 40 x 16 cm). Inflates to 15 psi in 5 minutes.

Glide performance
Versatile pointed shape suitable for cruising and small waves.

Robustness
Robust and impact-resistant glued dropstitch & PVC construction.

Easy transport
9kg. Easy to carry to water for launching, or in a backpack.

User comfort
Foam deck for comfort and grip.EVA foam handle

Carrying comfort
New bag with foam lining on the shoulders opens flat easily.

Weight
Recommended for one person weighing less than 80 kg.Maximum load: 230 kg

Recommended user weight Maximum load
Recommended user weightLess than 60 kg ultra-stable board.60 to 80 kg ideal board for easily starting out.More than 80 kg if you are a beginner, we recommend the larger size (11')Maximum load 230 kg.
Inflating & deflating the Stand Up Paddle
INFLATIONMake sure the valve's orange button is up (closed), by pressing on it.Connect the pump.Inflate to 15 psi.The more inflated the SUP, the more stable it is and the better its movement.Disconnect the pump and close the outer plug.DEFLATIONFirmly push the valve's orange button to let the air out.Do not put your face near and stay back.Roll, starting from the opposite side to the valve to remove all the air.
ial limited edition (code 962720) NEW VALVE Inflating & deflating the Stand-Up Paddle board
INFLATIONCheck that the valve is in the INFLATE position.If it is in the DEFLATE position, twist the valve cap a quarter turn anti-clockwise.Connect the pump.Inflate to 15 psi.Disconnect the pump and close the cap.DEFLATIONTwist the cap to the DEFLATE position, a quarter turn clockwise.Roll, starting from the opposite side to the valve to remove all the air.Close the cap.s4
Fin and fin base
Available through customer service and online in the event of breakage or loss.SUP fin reference 8403374Remember to remove the fin once you get off the water.If possible, rinse the fin base before and after use.Start folding up from the fin base, following the dotted lines to avoid damaging the base.s5
Maintenance tool
NEVER UNSCREW THE VALVE WHEN THE SUP IS INFLATED! RISK OF INJURY.If the valve leaks, once the SUP is deflated, close it a quarter turn using the tool provided.It is possible to change the valve if necessary, please contact the workshop of your Decathlon store.s6
Technical dimensions
INFLATED SUPLength 10' (305 cm)Width 32 (81.5 cm)Thickness 5 (12.5 cm)Volume 244 litresWeight 9 kg (+/- 10%)BAG CONTAINING THE FOLDED SUPHeight 90 cmWidth 40 cmThickness 20 cmThese dimensions leave room to fit the pump and adjustable split paddle inside.s7
Repairs
In the event of a hole in the structure, it is possible to repair the SUP with the cuttable repair patches and a high-pressure resistant MEK glue.s8
Leash
Always wear your leash to stay attached to your board if you fall. It's best to attach it to your ankle, but it can also be attached to the knee.Remove it and rinse after each use.s9
Practical for sailing
The inflatable SUP is very practical for sailing. It can be attached using the lines without obstruction or damage to the deck. It is easy to launch thanks to its leash. It allows users to paddle around anchored boats. A great sporty tender for adults and kids.0
Safety
Towing ring at the front allows you to tow your (empty) board.You can also attach your board to a dock or yoga platform.1
Bag contents
BoardFinLeashUser guideRepair patchValve tightening tool (use only with the SUP deflated)2
Recommendations for use
We recommend that you wear a buoyancy aid (reference 8501295) or a buoyancy belt (reference 8600104)
Composition
Main fabric,Polyvinyl Chloride - Phtalate Free: 70%,Polyester: 30%
Foam,Polyethylene: 75%,Ethylene Vinyl Acetate: 25%
Carry bag,Polyester: 100%