54_4104076_000-0000
Images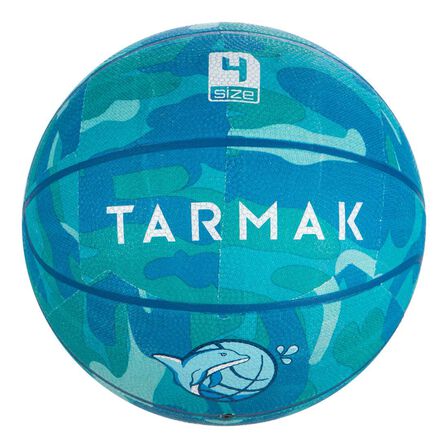 Unique Size Kids' (up to 7) Beginner Basketball K500, Turquoise
‎55.00 AED
https://www.azadea.com/en/buy-tarmak-unique-size--kids--%28up-to-7%29-beginner-basketball-k500%2C-turquoise/54_4104076_000.html
AED
55.00
2022-04-16
http://schema.org/NewCondition
In Stock
(Incl. VAT)
Details
https://www.azadea.com/en/buy-tarmak-unique-size--kids--%28up-to-7%29-beginner-basketball-k500%2C-turquoise/54_4104076_000-0000.html
Basketball designed for playing basketball indoors and outdoors. This size 4 basketball is designed for boys and girls ages 4 to 7.
This kids' size 4 basketball is one of a kind. It is softer and lighter than other balls, making it easier for children learning to play basketball. Size 4 for easier dribbling and shooting.
Lightweight
35% lighter than a size 5 ball, making it easier for kids to learn to play.

ball touch
Polyester exterior that's easy to grip and won't hurt small hands.

Bounce
Bounce quality suited to beginner basketball players with a fabric carcass.

Durability
Durable 2 mm polyester exterior for indoor and outdoor use

What makes the Tarmak K500 the ideal ball for your child to learn to play basketball?
Basketball is sport that requires dexterity and agility.To make learning easier for children, we created a ball that is 30% lighter than other balls of the same size. This makes it easier for them to score and pass successfully.The outer cover has a polyester layer, making it softer than a standard ball.Little hands won't be hurt, which will help your child build confidence.
Why the K500 ball? It's the perfect ball for playing with the Hoop 500 Easy!
The Tarmak K500 ball is the perfect ball for playing with the Hoop 500 Easy (the Tarmak basketball hoop that can be set up anywhere).The K500 is a size 4 basketball that is lighter than a classic ball. It is the right size for the Hoop 500 Easy, and allows players, particularly younger children, to shoot from farther away!
What ball size to choose?
The ball size depends on the player's age and gender.Size 1 From ages 2 and upSize 3 to size 5 Girls or boys ages 4 to 6 / Baby basket under 7 age group (depending on levels and clubs)Size 5 Boys and girls ages 7 to 10 / Under 9 and under 11 age groupsSize 6 Boys ages 11 and 12 / Under 13 age groupSize 6 Girls - Women of all ages over 11Size 7 Boys ages 13 and up, and men.s4
What's the ideal pressure to get the right bounce from your K500 basketball?
A basketball that is overinflated or underinflated will deliver a sub-par playing experience.The recommended pressure is clearly marked on the ball by the manufacturer.Ideally, you should use a pump with a pressure gauge so that you can be more precise.We recommend inflating your K500 ball to 0.35 bar.Enjoy your match!s5
What height basket should you choose?
The official height of a basketball basket is 3.05m (rim height).If you want a basketball basket for your child, you need something that will grow with them.For younger kids there isn't an official height so you can choose whatever suits them best.Up to the age of 10, club baskets are set at 2.60m.After the age of 10, both girls and boys play with 3.05m baskets.s6
Did you know that all TARMAK products are tested in the lab and in match conditions?
The design team behind the TARMAK products is based at Kipstadium in Northern France. It is constantly aiming to make basketball a more enjoyable experience. All Tarmak products have been tested in real-life situations by actual players for a number of weeks.These regular tests, along with customer feedback, help us develop our products.Lab tests are also carried out to check our products' various propertiess7
Who designs the Tarmak basketball products?
Tarmak is a team of keen basketballers who develop products eially for playing basketball. The entire product range is designed to meet the needs of even the most demanding basketball players and to give you maximum enjoyment during training and matches.
Composition
Bladder,Rubber - Butadiene Rubber: 100%
Outer shell,Polyester: 100%