85_839594_000
Images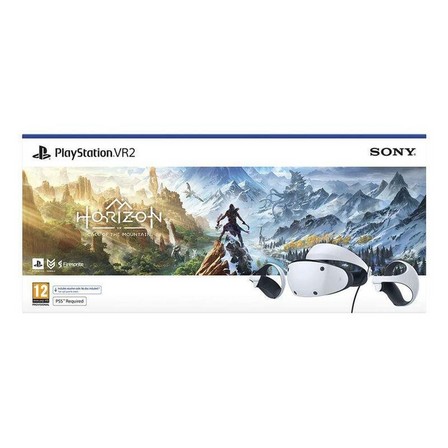 SONY COMPUTER ENTERTAINMENT EUROPE
Sony PlayStation VR2 Horizon Call of the Mountain (Bundle)
‎2,499.00 QAR
https://www.azadea.com/qa/en/buy-sony-computer-entertainment-europe-noname/85_839594_000.html
QAR
2,499.00
2024-12-05
http://schema.org/NewCondition
In Stock
Details
https://www.azadea.com/qa/en/buy-sony-computer-entertainment-europe-noname/85_839594_000.html

Free Delivery
On Full Price Items Over 229 QAR

Free Returns
Within 30 Days
Product ID

‎85_839594_000

Feal A New Real
Immerse yourself in epic worlds that go beyond reality
Experience the next generation of virtual reality play with stunning 4K HDR visuals, genre-defining games, and unique sensations from the ground-breaking PlayStation VR2 headset and PlayStation VR2 Sense controller.
The next generation of virtual reality gaming
Innovative PlayStation VR2 Sense™ technology brings emotion and immersion to life through subtle headset vibrations, 3D audio technology and intelligent eye tracking, combined with finger touch detection, haptic feedback and adaptive triggers from the PS VR2 Sense controller.
SEEING IS BELIEVING
From tiny details to wide-open vistas, from realistic facial expressions to living, breathing futuristic worlds, the next-gen processing power of PlayStation®5 console together with new optical features let you witness every moment in stunning detail.
Deeper details
Two 2000x2040 OLED displays deliver incredible 4K HDR visuals at up to 120fps, for 4x the resolution of the original PlayStation®VR.
Intelligent eye tracking
Express yourself to fellow players in new and lifelike ways with eye tracking1 that simulates heightened emotional responses from your in-game avatar, giving an enhanced sense of realism and personal interactions to co-op games or team chats in multiplayer games.
Incredibly sharp focus
Relish the details as foveated rendering brings in-game areas that your eyes focus on into amazing graphical fidelity - while making sure game performance stays stable.
Explore amazing worlds
Feel an incredible sense of presence in virtual game environments with a 110-degree field of view, and an adjustable Fresnel lens that allows you to customise spacing between lenses to match your eye position for an optimal onscreen image.
3D AUDIO IMMERSION
Sense a character's presence as they whisper in your ear, locate friends and enemies by their gunfire or footfall, and surround yourself with incredibly realistic soundscapes1, as in-game audio dynamically adapts to your position and head movements1 with Tempest 3D AudioTech.
FEEL A NEW DIMENSION OF PLAY
Thrilling new worlds come to life in uniquely immersive and emotional ways with PlayStation VR2 Sense™ technology.
Headset feedback
Subtle, responsive headset vibrations1 from a single built-in motor create a unique, intelligently tactile element to gameplay, from the rush of an arrow flying past your head to the thrust of a speeding vehicle.
Specifications:
Display method: OLED
Panel resolution: 2000 x 2040 per eye
Panel refresh rate: 90Hz, 120Hz
Lens separation: Adjustable
Field of View: Approx. 110 degrees
Sensors: Motion sensor: Six-axis motion sensing system (three-axis gyroscope, three-axis accelerometer) / Attachment sensor: IR proximity sensor
Cameras: 4 embedded cameras for headset and controller tracking / IR camera for eye tracking per eye
Feedback: Vibration on headset
Communication with PS5: USB Type-C®
Audio: Input: Built-in microphone / Output: Stereo headphone jack
VR2 Sense controller
Interact with virtual worlds in amazing new ways with haptic feedback, adaptive triggers, precision tracking and finger touch detection - all integrated into a unique ergonomic design.
Haptic feedback
Feel realistic, detailed responses to your in-game actions. From subtle, precise vibrations to intense pulses, a vast range of sensations in the game world can be delivered to your hands, letting you experience PS VR2 games in an incredibly tactile new way.
Adaptive triggers
Feel the tension in your bowstring, the sudden kick of a weapon jam or an object crumple as you crush it in your hands with adaptive triggers that add dynamic resistance in each controller.
Finger touch detection
Reach out and touch the virtual world around you with controllers that detect the placement of your fingers - even when you're not pressing a button.
The freedom to play
From the enhanced comfort of the new headset to the natural feel of the PS VR2 Sense controller's orb design, experience an incredibly deep sense of immersion.
Smart design
The world is in your hands with the innovative new PS VR2 Sense controller's orb design that empowers you to make precise movements and gestures with both hands.
Precision control
Take hold of your in-game gear and interact intuitively with the virtual world around you, using analogue sticks and acti...
Highlights & Specifications
Highlights & Specifications
Sony PlayStation VR2 Horizon Call of the Mountain (Bundle)