54_2765591_000-0000
Images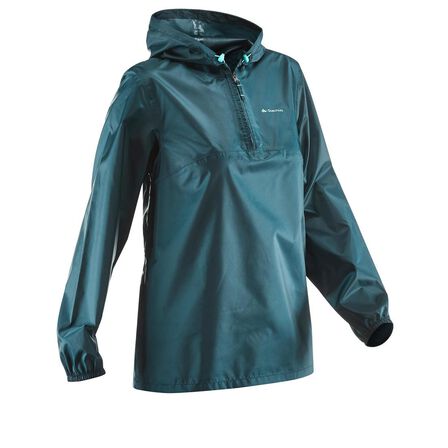 2XS/XS Women's NH100 Country Walking Raincoat, Dark Petrol Blue
‎59.00 AED
https://www.azadea.com/en/buy-quechua-2xs%2Fxs--women-s-nh100-country-walking-raincoat%2C-dark-petrol-blue/54_2765591_000.html
AED
59.00
2022-04-10
http://schema.org/NewCondition
In Stock
(Incl. VAT)
Details
https://www.azadea.com/en/buy-quechua-2xs%2Fxs--women-s-nh100-country-walking-raincoat%2C-dark-petrol-blue/54_2765591_000-0000.html
Our walking-enthusiast designers developed this ECO-DESIGNED jacket for your short walks in the forest or on the coast: back-up protection for rainy weather.
Our best price for waterproof walking jackets! This light, compact, waterproof and breathable technical jacket provides excellent back-up protection and can be stored in your pocket.
Waterproof
Waterproof coating (2000آ mm rating). Main seams taped. Hood

Easy transport
1 pocket closed with a zip. When folded, the jacket can be stored in your pocket

Eco-design
Eco-designed with recycled polyester fibres

Breathability
Hydrophilic coating (RET=12): reduces condensation in the clothing

Ease of use
Hood fastening. Zip pulls for easy opening with gloves

Lightweight
Lightweight and compact jacket. Weight: 175 g in size S-M

Waterproofing of the garment
This clothing was validated in a shower test using 60 L/sqm/hr of water for 1 hour. This test reproduces the average conditions of a shower. The fabric of this jacket is water repellent, i.e. it makes water run off its surface without absorbing it. As a result, the fabric does not soak up water and stays light and breathable. A fabric is made water repellent by applying a treatment to its outer surface. What's more, we have taped the main seams, those most exposed to the rain.
How to maintain the waterproofing of your jacket over time
In order to maintain good waterproofing over time, the fabric's water repellent properties must be regularly reactivated. We recommend doing this every three washes or after a dozen uses in the rain. The waterproof property is easily reactivated by warming the fabric either in your tumble dryer or with a hair dryer, for example, over a relatively short period. If you are washing it, it must be thoroughly rinsed.
Measurement of the waterproof rating expressed in mm or schmerber
The resistance of a fabric is measured by the height of a water column in mm that can be supported by the fabric (test based on the ISO 811 standard). The higher the pressure, the more waterproof the fabric. A component with an impermeability of 2000mm therefore resists a pressure exerted by 2000mm of waters4
Component breathability
To find out whether a fabric is breathable, we test its total evaporative resistance (RET) based on the ISO 11092 standard. The lower the fabric's resistance, the more water vapour generated by physical activity can escape, and the higher the fabric's breathability.RET < 9 = extremely breathable fabric9 < RET < 12 = very breathable fabric12 < RET < 20 = breathable fabricRET > 20 = little or no breathabilitys5
How to choose your waterproof jacket according to your sports discipline and the intensity of your physical activity
During sports, the extent to which we perspire depends on the intensity or duration of the physical activity. If the breathability of the fabric is not adapted to your type of physical activity, the perspiration vapour condenses inside the jacket. You feel damp inside this is condensing perspiration vapour rather than rain getting inside. You therefore need to choose a rain jacket according to your type of physical activity. This jacket is designed for 2-hour hikes at no more than 5km/h.s6
Our impact on the environment
On a scale of A to E, this T-shirt obtained a B rating.The environmental impacts of our products are calculated over their entire life cycle. A score is given to each product in order to identify the most eco-friendly products within a particular product family (t-shirts, trousers, backpacks).Decathlon is committed to displaying the environmental data of its products.For more information, go to https//youtu.be/8t63KkRwn_8s7
Making more eco-friendly
We take care of our planet to preserve our natural playground and to contribute to the pleasures of hiking. This is why, for the turquoise colour of this jacket, we have opted for a material entirely designed from recycled polyester fibres in order to limit out CO2 impact.s8
Additional recommended products
Raincut over-trousers for protecting the legs as well, thereby providing a very effective complete outfit to protect you from the wind and rain showers.And, first and foremost from 2019, we are starting to use a more eco-friendly dyeing process for the over-trousers!s9
Warranty
Our hiking jackets are guaranteed for 2 years.Our commitment? To offer you long-lasting products that you can use on all your country walks. Because the products we like the most are those with a story behind them that is still continuing!
Composition
Main fabric,Polyester: 100%
Coating,Polyurethane: 100%