54_2745747_000-0000
Images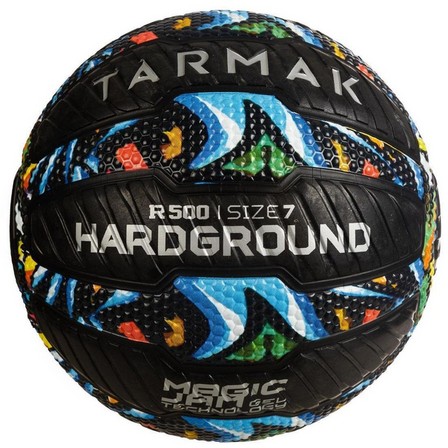 20% off 200 AED on App
US 7 Adult Puncture-Proof Grippy Basketball R500 Size 7 - Graffiti., Black
‎85.00 AED
https://www.azadea.com/en/buy-tarmak-us-7--adult-puncture-proof-grippy-basketball-r500-size-7---graffiti.%2C-black/54_2745747_000.html
AED
85.00
2022-09-25
http://schema.org/NewCondition
In Stock
(Incl. VAT)
Details
https://www.azadea.com/en/buy-tarmak-us-7--adult-puncture-proof-grippy-basketball-r500-size-7---graffiti.%2C-black/54_2745747_000-0000.html
Size 7 basketball suitable for use by men and boys aged 13 and up playing basketball outdoors in accordance with FIBA rules.
This size 7 basketball is one of a kind. It features our Magic Jam technology, which reduces air loss, while the panels feature a tyre-inspired pattern for exceptional grip.
Durability
Excellent durability thanks to the 1.8 mm rubber exterior and the Magic Jam

Traction
Good grip from its tyre-like sculpted rubber panels.

Lasting air retention
Can go longer between re-inflations thanks to a bladder made with 50% butyl.

ball touch
Good ball feel thanks to the foam rubber exterior.

What makes the Tarmak R500 and its Magic Jam so ial?
The Tarmak R500 basketball is one of a kind.Some balls are slippery, have a terrible bounce and can't be repaired. We wanted to offer a solutionIn addition to its reinforced covering, this ball contains a green gel made of rubber microparticles that get sucked into holes to not only fill, but to also reinforce these areas. This prevents air leaking out so you can keep playing. We called this gel Magic Jam.
Is the R500 really puncture-proof?
The R500 Tarmak ball withstands up to 10 punctures (2 mm diameter) without going flat.If you find a hole, bounce the ball at least 10 times. This causes the Magic Jam to move around and fill in the hole before hardening on contact with air.If the ball ever loses too much pressure, remember to reinflate it (to 0.62 bar for the perfect bounce).
What makes the R500 so grippy?
Having a good grip is essential in basketball.We drew inspiration from something else that requires excellent grip tyres.The R500 Tarmak basketball comes with a rubber covering that makes it durable and exceptionally grippy.Its sculpted, tyre-inspired panels alternate with panels in thick, basketball pebbling that makes gripping this ball exceptionally easy.s4
What ball size to choose?
The ball size depends on the player's age and gender.Size 1 From ages 2 and upSize 3 to size 5 Girls or boys ages 4 to 6 / Baby basket under 7 age group (depending on levels and clubs)Size 5 Boys and girls ages 7 to 10 / Under 9 and under 11 age groupsSize 6 Boys ages 11 and 12 / Under 13 age groupSize 6 Girls - Women of all ages over 11Size 7 Boys ages 13 and up, and men.s5
What ball should you use?
If you want a very durable ball, go for a rubber ball. If you're looking for a ball with a good ball feel, choose a leather or synthetic ball.s6
How much should you inflate your basketball?
A basketball that is overinflated or underinflated will deliver a sub-par playing experience.The recommended pressure is clearly marked on the ball by the manufacturer.Ideally, you should use a pump with a pressure gauge for a more precise inflation.At Tarmak, we recommend a pressure of 0.62 bar.Enjoy your game!s7
What height basket should you choose?
The official height of a basketball basket is 3.05m (rim height).If you want a basketball basket for your child, you need something that will grow with them.For younger kids there isn't an official height so you can choose whatever suits them best.Up to the age of 10, club baskets are set at 2.60m.After the age of 10, both girls and boys play with 3.05m basketss8
Did you know that all TARMAK products are tested in the lab and in match conditions?
The design team behind the TARMAK products is based at Kipstadium in Northern France. It is constantly aiming to make basketball a more enjoyable experience. All Tarmak products have been tested in real-life situations by actual players for a number of weeks.These regular tests, along with customer feedback, help us develop our products.Lab tests are also carried out to check our products' various propertiess9
Who designs the Tarmak basketball products?
Tarmak is a team of keen basketballers who develop products eially for playing basketball. The entire product range is designed to meet the needs of even the most demanding basketball players and to give you maximum enjoyment during training and matches.0
Get all our tips on choosing the right gear and training!
Tarmak is here for anyone playing basketball, from beginners to regulars. Check out our tips for training, kitting yourself out, and playing alone or with friends.https//conseilsport.decathlon.fr/conseils/basketball-al_332
Composition
Bladder,Rubber - Isobutylene Isoprene Rubber - Butyl: 100%
Main fabric,Rubber - Natural Rubber - Latex: 100%
Winding,Rubber - Natural Rubber - Latex: 100%
---